Reformation 500th Anniversary Resources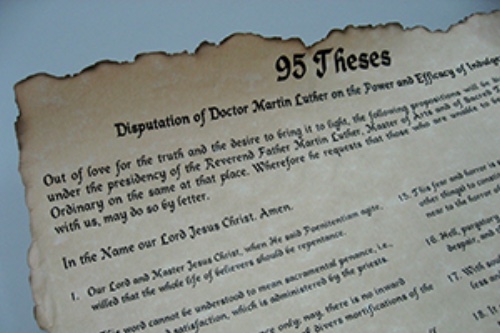 The 500th anniversary of the Reformation presents a unique opportunity to commemorate this historic event in a way that both deepens appreciation for the Lutheran tradition as well as examines that tradition in light of the remarkable ecumenical progress of the last century.
Several events are planned for 2017 with the hope that mission clusters and congregations throughout the Synod will add their own. The calendar of Synod-sponsored and related Reformation events are listed below.
Also, the Synod is committed to having such conversations in the years to come with our fellow Christians, especially full-communion partners in Nebraska (Presbyterian, Episcopal, United Church of Christ and United Methodist churches), ongoing dialogue partners in the region (Mennonites), and long-term dialogue partners (Roman Catholics).
Members are encouraged to study the Small and Large Catechisms, which are widely available, as well as the Augsburg Confession and other documents within the Book of Concord. The resources below will help give congregations ideas they may wish to use in commemorating this event.
Resources:
Reformation Events Calendar
Staff and Ministry Contacts: