Justice Ministry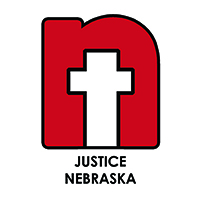 What is justice? The Nebraska Synod Justice Committee wants to ask mission centers throughout Nebraska where they see justice in their communities and how they are called to speak on behalf of those in need to see justice done on their behalf.
In a divided world consumed with winning and losing, we as the church are called by Christ to be different. The Nebraska Synod seeks to have genuine discussion about Christ's calling for us to show mercy, love and justice in our communities, our state, our nation and our world. The question is not merely how do we give fish to the hungry person, but how do we also get them to the lake and teach them to fish?
What is justice? It is taking Christ's teachings outside the church walls and into the streets of our neighborhoods, communities and world. No winners. No losers. Just walking with others and showing them the love of Jesus Christ.
Resources:
Social Statements
To provide synods, congregations and individual members of the ELCA with guidance, the ELCA has prepared and adopted a variety of social statements. More information about the ELCA and social issues is available on the ELCA's website.
Government Resources
From time to time, individuals may wish to discuss issues with policymakers from a faith perspective. The links below are intended to help facilitate that process for those who feel called to do so.
AMMPARO/Guardian Angels Training
"You shall not deprive a resident alien or an orphan of justice." Deuteronomy 24:17
Saturday, January 13, 2018
St. Thomas Lutheran Church, 17007 Q St. Omaha, NE 68135
9:30 to 12:30pm Introduction to the ELCA's AMMPARO Strategy
12:30-1pm lunch (optional)
1-4pm Guardian Angels Training 
The word "amparo" in Spanish means the protection of a living creature from suffering or damage. The ELCA's strategy to Accompanying Migrant Minors with Protection, Advocacy, Representation and Opportunities (AMMPARO) was envisioned after witnessing the plight of children who are forced to flee their communities because of complex and interrelated reasons, including chronic violence, poverty, environmental displacement and lack of opportunities in El Salvador, Honduras and Guatemala. The Nebraska and Western Iowa Synods are partnering together to work for justice and love our neighbors in engaging this strategy in some specific ways.  One of those strategies includes being the church in the courtroom through being trained to be a Guardian Angel for migrant minors and their families.  You can learn more here. Please share this event and encourage others to attend. All are welcome!
If you attended the Nebraska Synod's introduction to the ELCA's AMMPARO strategy June 1, 2017, plan to attend only the afternoon Guardian Angels training.  If you did not and would like to learn basic information about immigration to the United States and the ELCA's response to this issue, come for the whole day or stay just for the morning!  Lunch will include a free will offering to defray expenses and build the Western Iowa and Nebraska Synods' AMMPARO networks.
Anyone needing a hotel room the night prior to the event may call the New Victorian Inn & Suites at 10728 L St. (402)593-2380.  Ask for the Nebraska Synod room rate.
Staff Contact:
Synod Justice Committee:
Chairperson:  
Members: Rev. Andrew Kitzing, Lincoln; Rev. Mark Liscom, Diller; Julie Rother, Wayne; Adam Van der Tuig, Omaha; Rev. Justin Eller, Lincoln; Sonya Buskirk, Kearney.